Click icons to view detailed images and description
One of Randy Groves' more interesting restoration projects was a commissioned to repair and bring back to its original glory, a John Rogers sculpture dating back to 1865.
The piece, cast in limited edition, is missing the little finger of the standing figure and the left arm of the wounded man.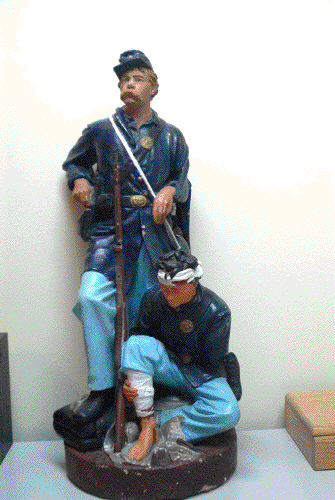 Randy Groves regards restoration work as a very real link with the past. "It gives me the opportunity to `see' with John Rogers' eyes, and feel a bit of what he was feeling when he sculpted the piece," he explains.
The first image shows the work before restoration. In addition to the damage described above, there was a chip in one of the figure's sleve, a third of the length, a quarter inch deep.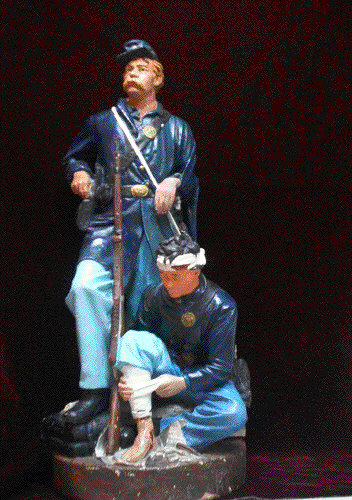 In addition to restoring the finger of the standing man, he will be replacing the arm of the seated figure, which is entirely gone. (He should be holding the end of the bandage he has wrapped around his leg wound.)
"The complex part for me is to try to do the restoration work in Rogers' style, not my own," he adds.
Two views of the restored sculpture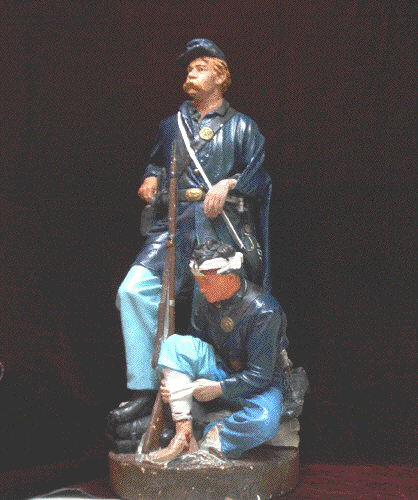 Referring to the size of the Rogers work (24" high - somewhat larger than the pieces currently on display in the Southwood Sculpture Gallery), Randy Groves states "I also like the fact that the piece is a very comfortable size to work with."
"With very large pieces, one moves a lot of clay around without seeing an immediate difference, while on small pieces detail work is very painstaking. The Rogers piece is a sort of middle ground."
Restoration of the sleeve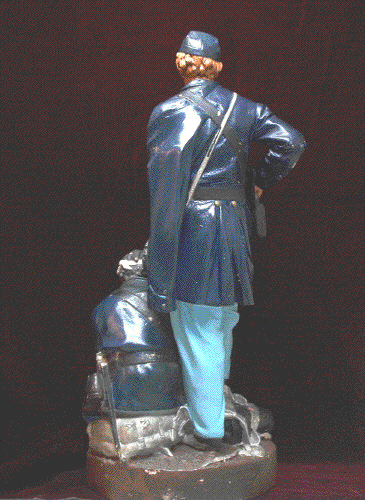 Randy Groves with figure's owner, Dan DePalma