Peter Jennings
At the top of his profession as an acclaimed ABC News Senior Editor, Peter Jennings openly declared that the thing he was most proud of was being a father.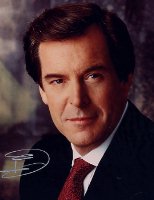 In this sculpture Randy Groves is attempting to capture every aspect of the dichotomy that Peter Jennings could be. While comfortable surrounded by a cacophony of technology - flashing computer screens and chiming telephones, his favorite possession was his canoe, a cocoon where he could cherish the quiet of peaceful water.
Though television conveyed a calm, urbane and erudite anchorman, off camera, by his own admission, he could be "pretty hysterical" at
times.
A high school dropout (to begin an early professional career), Peter Jennings bloomed into one of the world's most polished,
interested and interesting communicators, an intellectual feat that is a true tribute to his work ethic.
Ever bursting with enthusiasm, Peter Jennings' true gifts were mainly hidden from view - his fathering skills, his compassion, and his charity.
Click the image below to see Randy Groves' Bronze Bust of Earle Hagen