ORDERING INFO
The relief of General Robert E. Lee was cast in three mediums, cold cast Bronze, pecanwood and also in White Marble.
The piece is 7 1/2 inches wide X 10 inches tall and has a brass nameplate which reads Gen. Robert E. Lee.
Edition in White Marble on Walnut - $95
Other pieces from the CIVIL WAR series
(click image to view details and images of the sculpture)
Irish Brigade Monument
in Bronze & bonded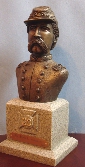 Joshua Lawrence Chamverlain bust
in Bronze, White Marble & Pecanwood as well as figure at Little Round Top

Civil War Desktop Pieces
Chamberlain, Lee, Lincoln, Longstreet, Jackson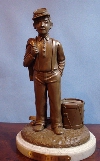 "Ordered to the Reer"
Woodcarvings on Civil War subjects

Restorations
of John Rogers