ORDERING INFO
The medium used is a type of ground White Marble that is fused with a bonding agent to give the finished piece the appearance of finely chiselled Marble. The designation "Desktop" is derived from the size of the bust.
At 5 inches in height by 3 inches in width the sculpture is large enough to be pleasing to the eye yet not interfere with work taking place at the desk.
Edition in Cold Cast Bronze on Black Marble - $170.
Edition in Cold Cast Bronze on grey granite- $210
Price: $25
(click image to view details and images of the sculpture)
Irish Brigade Monument
in Bronze & bonded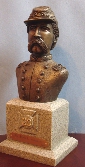 Joshua Lawrence Chamverlain bust
in Bronze, White Marble & Pecanwood as well as figure at Little Round Top

Civil War Desktop Pieces
Chamberlain, Lee, Lincoln, Longstreet, Jackson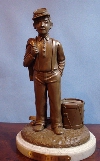 Woodcarvings on Civil War subjects

Restorations
of John Rogers